We are passionate about Personalizing the Art of Dentistry
Find helpful information in our digital library.
Posts for tag: oral hygiene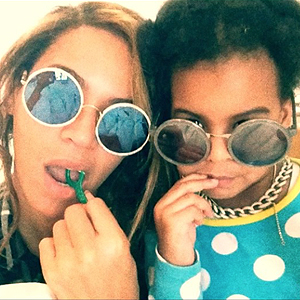 As is the case with most celebs today, Beyonce is no stranger to sharing on social media… but she really got our attention with a video she recently posted on instagram. The clip shows the superstar songstress — along with her adorable three-year old daughter Blue Ivy — flossing their teeth! In the background, a vocalist (sounding remarkably like her husband Jay-Z) repeats the phrase "flossin'…flossin'…" as mom and daughter appear to take care of their dental hygiene in time with the beat: https://instagram.com/p/073CF1vw07/?taken-by=beyonce
We're happy that this clip highlights the importance of helping kids get an early start on good oral hygiene. And, according to authorities like the American Dental Association and the American Academy of Pediatric Dentistry, age 3 is about the right time for kids to begin getting involved in the care of their own teeth.
Of course, parents should start paying attention to their kids' oral hygiene long before age three. In fact, as soon as baby's tiny teeth make their first appearance, the teeth and gums can be cleaned with a soft brush or cloth and a smear of fluoride toothpaste, about the size of a grain of rice. Around age 3, kids will develop the ability to spit out toothpaste. That's when you can increase the amount of toothpaste a little, and start explaining to them how you clean all around the teeth on the top and bottom of the mouth. Depending on your child's dexterity, age 3 might be a good time to let them have a try at brushing by themselves.
Ready to help your kids take the first steps to a lifetime of good dental checkups? Place a pea-sized dab of fluoride toothpaste on a soft-bristled brush, and gently guide them as they clean in front, in back, on all surfaces of each tooth. At first, it's a good idea to take turns brushing. That way, you can be sure they're learning the right techniques and keeping their teeth plaque-free, while making the experience challenging and fun.
Most kids will need parental supervision and help with brushing until around age 6. As they develop better hand-eye coordination and the ability to follow through with the cleaning regimen, they can be left on their own more. But even the best may need some "brushing up" on their tooth-cleaning techniques from time to time.
What about flossing? While it's an essential part of good oral hygiene, it does take a little more dexterity to do it properly. Flossing the gaps between teeth should be started when the teeth begin growing close to one another. Depending on how a child's teeth are spaced, perhaps only the back ones will need to be flossed at first. Even after they learn to brush, kids may still need help flossing — but a floss holder (like the one Beyonce is using in the clip) can make the job a lot easier.
If you would like more information about maintaining your children's oral hygiene, please contact us or schedule an appointment for a consultation. You can learn more by reading the Dear Doctor magazine articles "Top 10 Oral Health Tips For Children" and "How to Help Your Child Develop the Best Habits for Oral Health."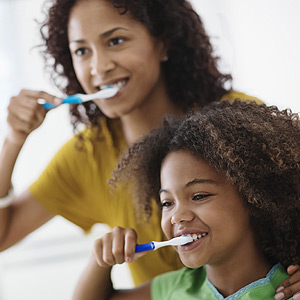 Long-term dental health is built on a foundation of good hygiene habits instilled at an early age. Consistent, daily hygiene not only makes for healthy teeth and gums but an attractive smile too.
Here are 4 tips for encouraging your child to develop effective oral hygiene habits.
Begin teaching them to brush and floss on their own around age 6. Brushing and flossing are the primary ways to remove bacterial plaque from teeth, the main cause for dental disease. You should begin brushing your child's teeth when they first appear; around age 6 you can begin encouraging them to brush for themselves and learn to floss.
Promote healthy eating and snacking habits. A nutritious diet is also important for maintaining healthy teeth and gums. Make sure your child is eating a varied, balanced diet of whole foods in appropriate portions. You should limit sugar and other carbohydrates (which accelerate growth of decay-causing bacteria) to mealtimes; offer limited, non-sugary snacks between meals.
Warn older children and teens about practices that are unhealthy for the mouth. As children enter their teen years, they're under increased pressure from peers to try unhealthy practices. Oral piercings like tongue and lip bolts can increase tooth damage — chipping and wear — and gum recession, infection and bone loss. Tobacco use, both smoke and smokeless, can also cause tooth staining, increase the risk of decay, gum disease and oral cancer. Begin stressing the dangers these practices pose to their general and oral health before they reach puberty.
Practice what you teach. Â Modeling healthy behavior you want your child to learn is just as important as instructing them how to do it. When they're very young, brushing teeth should be a family affair — allow them to see how you brush your teeth as you help them brush theirs. And, if you're not sure if your hygiene techniques are worthy of emulation, we'll be glad to help you improve your effectiveness to pass on to the next generation.
If you would like more information on developing life-long dental habits with your child, please contact us or schedule an appointment for a consultation. You can also learn more about this topic by reading the Dear Doctor magazine article "How to Help Your Child Develop the Best Habits for Oral Health."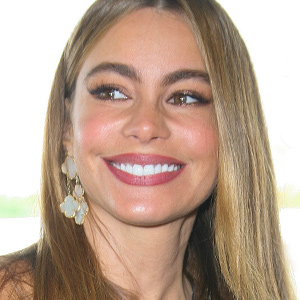 A woman as gorgeous and funny as Sofia Vergara surely planned to be a model and actress from the get-go, right? Wrong! Sofia's first career choice actually was to be… a dentist! That's right, the sexy star of TV's Modern Family actually was only two semesters shy of finishing a dental degree in her native Columbia when she traded dental school for the small screen. Still, dental health remains a top priority for the actress and her son, Manolo.
"I'm obsessed," she recently told People magazine. "My son thinks I'm crazy because I make him do a cleaning every three months. I try to bribe the dentist to make him to do it sooner!"
That's what we call a healthy obsession (teeth-cleaning, not bribery). And while coming in for a professional cleaning every three months may not be necessary for everyone, some people — especially those who are particularly susceptible to gum disease — may benefit from professional cleanings on a three-month schedule. In fact, there is no one-size-fits-all approach to having professional teeth cleanings — but everyone needs this beneficial procedure on a regular basis.
Even if you are meticulous about your daily oral hygiene routine at home, there are plenty of reasons for regular checkups. They include:
Dental exam. Oral health problems such as tooth decay and gum disease are much easier — and less expensive — to treat in the earliest stages. You may not have symptoms of either disease early on, but we can spot the warning signs and take appropriate preventive or restorative measures.
Oral cancer screening. Oral cancer is not just a concern of the middle aged and elderly — young adults can be affected as well (even those who do not smoke). The survival rate for this deadly disease goes up tremendously if it is detected quickly, and an oral cancer screening is part of every routine dental visit.
Professional teeth cleaning. Calcified (hardened) dental plaque (tartar or calculus) can build up near the gum line over time — even if you brush and floss every day. These deposits can irritate your gums and create favorable conditions for tooth decay. You can't remove tartar by flossing or brushing, but we can clear it away — and leave you with a bright, fresh-feeling smile!
So take a tip from Sofia Vergara, and don't skimp on professional cleanings and checkups. If you want to know how often you should come in for routine dental checkups, please contact us or schedule an appointment for a consultation. You can learn more in the Dear Doctor articles "Dental Hygiene Visit" and "Dental Cleanings Using Ultrasonic Scalers."