We are passionate about Personalizing the Art of Dentistry
Find helpful information in our digital library.
Posts for tag: oral health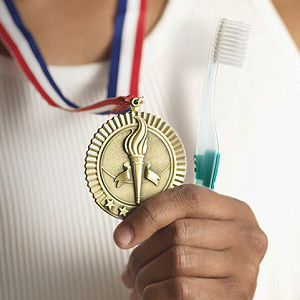 Considering all the intensive conditioning, practice and training they do, most people would expect elite athletes to be… well… healthy. And that's generally true — except when it comes to their oral health. A major study of Olympic contenders in the 2012 London games showed that the oral health of athletes is far worse than that of the general population.
Or to put it more succinctly: "They have bodies of Adonis and a garbage mouth."
That comment, from Dr. Paul Piccininni, a practicing dentist and member of the International Olympic Committee's medical commission, sums up the study's findings. In terms of the numbers, the report estimates that about one in five athletes fared worse in competition because of poor oral health, and almost half had not seen a dentist in the past year. It also found that 55 percent had cavities, 45 percent suffered from dental erosion (excessive tooth wear), and about 15 percent had moderate to severe periodontal (gum) disease.
Yet, according to Professor Ian Needleman of University College, London, lead author of the study, "Oral health could be an easy win for athletes, as the oral conditions that can affect performance are all easily preventable."
Many of the factors that had a negative impact on the athletes are the same ones that can degrade your own oral health. A follow-up paper recently published in the British Journal of Sports Medicine identified several of these issues. One is a poor diet: The consumption of excessive carbohydrates and acidic foods and beverages (including sports drinks) can cause tooth decay and erosion of the protective enamel. Another is dehydration: Not drinking enough water can reduce the flow of healthy saliva, which can add to the damage caused by carbohydrates and acids. The effects of eating disorders (which are more commonly seen in certain sports, such as gymnastics) can also dramatically worsen an individual's oral health.
Sound familiar? Maybe it's because this brings up some issues that dentists have been talking about all along. While we don't mean to nag, this study does point out that even world-class competitors have room for improvement with their oral hygiene. How about you? Whether you're a triathlete in training, a weekend warrior or an armchair aficionado, good oral health can have a major effect on your well-being.
If you have additional questions about oral health, please contact us or schedule an appointment for a consultation. For more information, see the Dear Doctor magazine article "Good Oral Health Leads to Better Health Overall."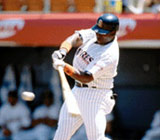 Chewing tobacco is a known cause of oral cancer, yet many a Major League Baseball player has been seen walking onto the field with a round tin visibly poking out of his back pocket. That was before this year. Recognizing the influence big-leaguers have on their young fans, MLB players agreed to a new contract that limits their use of chewing tobacco and their ability to carry it around their fans. The 2012 season is the first to be played under the new rules, which were championed by Baseball Commissioner Bud Selig.
One player who used smokeless tobacco heavily is Baseball Hall of Famer Tony Gwynn. The former Padres slugger earlier this year endured 14 hours of surgery to remove a cancerous growth from the inside of his right cheek and graft a nerve from his shoulder to replace a facial nerve damaged by the tumor. This was Gwynn's second cancer surgery in less than two years.
When it comes to oral cancer, the importance of early detection can't be stressed enough. Unfortunately, this form of cancer is not usually detected until a late stage so the overall survival rate is poor, with only 58% surviving five years after treatment. Yet when oral cancer is detected while a lesion is small, survival rate exceeds 80%. That's why an oral cancer screening is always part of your dental check-up or regular cleaning appointment at this office.
During this screening we will examine your face, neck, lips, mouth, tongue and the back of your throat for any suspicious lesions (sores or ulcers) or lumps. Of course, if you notice any unusual lesions, or color changes (white or red patches), anywhere in your mouth that do not heal within two-three weeks, please come in to see us as soon as possible. And if you need help kicking a tobacco habit, we can advise you on how to get it.
If you would like more information about oral cancer, please contact us or schedule an appointment for a consultation. You can also learn more by reading the Dear Doctor magazine article "Oral Cancer."