We are passionate about Personalizing the Art of Dentistry
Find helpful information in our digital library.
Posts for tag: dental implants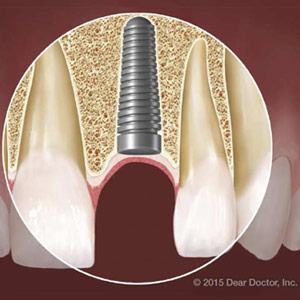 Today, dental implants are an increasingly popular option for replacing lost teeth — an issue faced by many older Americans. It's not hard to see why these high-tech prosthetic teeth are preferred: They look, "feel" and function just like natural teeth… and with proper care they can last the rest of your life. Unfortunately, many people who could benefit from implants also face an additional health problem: diabetes, a metabolic disease that can affect many different parts of the body, sometimes severely.  Uncontrolled diabetes can lead to nerve and tissue damage, and may adversely impact your oral health. So if you have diabetes, does it mean you won't be able to get dental implants? 
The short answer is no — but there are some considerations that diabetics (and their health care providers) need to keep in mind. For example, it has been demonstrated that wounds in diabetics tend to heal more slowly, and are more prone to infection than those in non-diabetics. Also, people with diabetes sometimes experience a chronic inflammatory response, which can eventually lead to tissue damage or other problems.
Because the placement of dental implants requires minor surgery, dentists and researchers have questioned whether people with diabetes are good candidates for implants. Now there's encouraging news: Several recent studies have come to the conclusion that many diabetics can indeed undergo an implant procedure without undue risk.
One key consideration is how well an individual can control his or her blood glucose levels. Researchers have found that diabetics with good blood glucose control, those with poor glucose control, and non-diabetics all have similar implant success rates (above 95%). However, in diabetics with poor glucose control, more time may be needed for the jawbone to heal in the area where the implant procedure was done. That doesn't by any means rule out the placement of a dental implant — but it does mean that special considerations apply to individuals in this situation.
So if you are considering an implant procedure but have trouble controlling your blood glucose levels, ask us how we can help. Just remember that in most cases, having diabetes doesn't mean you won't be able to enjoy the benefits of dental implants. If you have additional questions, contact us or schedule an appointment.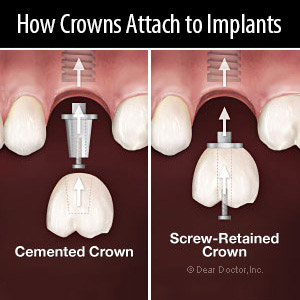 In the realm of restorative dentistry, dental implants are king. A dental implant can replace a tooth with a permanent, life-like restoration with a solid reputation for durability.
Implants are also known for one other quality — variety. Not all implants are alike, and they have varied applications for use. Available in various shapes and sizes, they can be used for a single tooth or as part of a multiple tooth bridge or overdenture. And while their basic architecture is the same, you also have two options for how the permanent crown (the visible tooth portion) attaches to the implant: screwed or cemented.
A screw attachment can securely fasten a crown to an implant without the need for cement; it also allows for easy removal for repair or replacement should the crown become damaged or worn. On the other hand, it could pose a cosmetic problem — even though the access hole for the screw may be covered with a tooth-colored filling, it could still be distinguishable from the rest of the crown. There's also a slight risk of the crown chipping around the access hole.
A crown cemented to the implant won't have this cosmetic issue with an access hole, and will look just like a natural tooth. But unlike a screwed crown, removing a cemented crown can be more difficult. The cement may also cause gum inflammation and potential bone loss in sensitive patients.
The condition of your mouth, the type of implant you're receiving and other circumstances will all factor into determining which method is best for you. If we're "immediately loading" the crown (meaning we're affixing a temporary crown to the implant immediately after placement in the jaw), then the screw method may be more advantageous. Aesthetically speaking, though, a cemented crown may be a better option in terms of final smile appearance.
But whichever method is used, you'll still benefit from what implants do best — help you regain the function lost from a missing tooth and change your smile for the better.
If you would like more information on your options with dental implants, please contact us or schedule an appointment for a consultation. You can also learn more about this topic by reading the Dear Doctor magazine article "How Crowns Attach to Implants."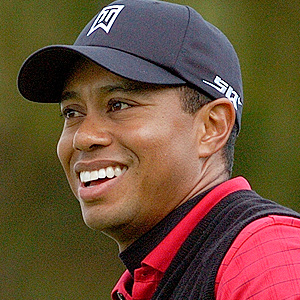 Let's say you're traveling to Italy to surprise your girlfriend, who is competing in an alpine ski race… and when you lower the scarf that's covering your face, you reveal to the assembled paparazzi that one of your front teeth is missing. What will you do about this dental dilemma?
Sound far-fetched? It recently happened to one of the most recognized figures in sports — Tiger Woods. There's still some uncertainty about exactly how this tooth was taken out: Was it a collision with a cameraman, as Woods' agent reported… or did Woods already have some problems with the tooth, as others have speculated? We still don't know for sure, but the big question is: What happens next?
Fortunately, contemporary dentistry offers several good solutions for the problem of missing teeth. Which one is best? It depends on each individual's particular situation.
Let's say that the visible part of the tooth (the crown) has been damaged by a dental trauma (such as a collision or a blow to the face), but the tooth still has healthy roots. In this case, it's often possible to keep the roots and replace the tooth above the gum line with a crown restoration (also called a cap). Crowns are generally made to order in a dental lab, and are placed on a prepared tooth in a procedure that requires two office visits: one to prepare the tooth for restoration and to make a model of the mouth and the second to place the custom-manufactured crown and complete the restoration. However, in some cases, crowns can be made on special machinery right in the dental office, and placed during the same visit.
But what happens if the root isn't viable — for example, if the tooth is deeply fractured, or completely knocked out and unable to be successfully re-implanted?
In that case, a dental implant is probably the best option for tooth replacement. An implant consists of a screw-like post of titanium metal that is inserted into the jawbone during a minor surgical procedure. Titanium has a unique property: It can fuse with living bone tissue, allowing it to act as a secure anchor for the replacement tooth system. The crown of the implant is similar to the one mentioned above, except that it's made to attach to the titanium implant instead of the natural tooth.
Dental implants look, function and "feel" just like natural teeth — and with proper care, they can last a lifetime. Although they may be initially expensive, their quality and longevity makes them a good value over the long term. A less-costly alternative is traditional bridgework — but this method requires some dental work on the adjacent, healthy teeth; plus, it isn't expected to last as long as an implant, and it may make the teeth more prone to problems down the road.
What will the acclaimed golfer do? No doubt Tiger's dentist will help him make the right tooth-replacement decision.
If you have a gap in your grin — whatever the cause — contact us or schedule an appointment for a consultation, and find out which tooth-replacement system is right for you. You can learn more in the Dear Doctor magazine articles "Dental Implant Surgery" and "Crowns & Bridgework."