We are passionate about Personalizing the Art of Dentistry
Find helpful information in our digital library.
Thursday Nov 12, 2020
To Our Valued Patients,
We've been informed by our property manager that the elevator in our building will be out of service for 5 to 6 weeks (possibly until December 30th) starting November 18. If you or a family member require the use of the elevator to get to our office, and you need an appointment before the end of the year, please call us right away so that we can see you before Wednesday the 18th.
Should you have an emergency and need to be seen before elevator service is restored, we can make arrangements for a telehealth visit to assess your needs. We're here for you!
We apologize for any inconvenience this may cause.
Stay safe, and have a Happy Thanksgiving!
Dr. Mae Lee Springer
Wednesday Oct 7, 2020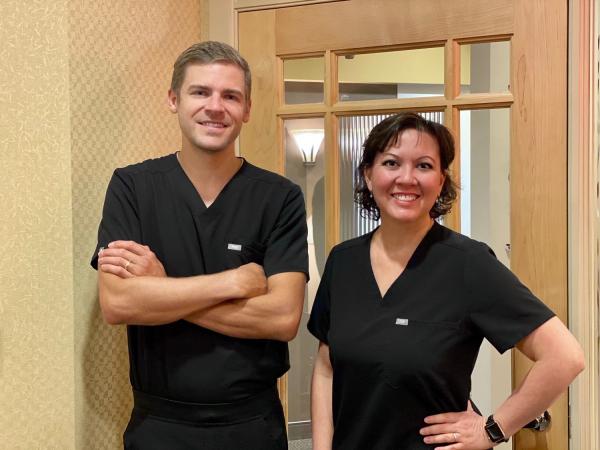 To Our Valued Dental Patients,
I hope that this post finds you and yours as well as can be expected during these crazy times. This year has certainly brought its share of challenges, but it has also driven some creative solutions that redefined the way we do things. We implemented new protocols, we wear layers and layers of new PPE, and we installed new equipment, all to keep our patients and our team safe. I want to thank all of you for your patience and cooperation, and for your loyalty and support as we navigate through these changes. It means the world to me!
Looking ahead to the future, there will be some other changes around the office that you will be seeing. I am very pleased to announce the addition of Dr. Kevin Walker to our dental family! Dr. Walker joins our practice after nearly ten years of private practice in the Sacramento Area. He recently relocated to South Orange County to be closer to family, and we are thrilled to have him join our practice.
Dr. Walker's practice philosophy aligns closely with my own, which means taking the time to truly listen to our patients, and treating people with compassion and honesty. He also graduated from the same dental school, the University of the Pacific in San Francisco, so I know he received the same top-notch, humanistic training that I received. After dental school Dr. Walker also completed a post-graduate residency at the Lutheran Medical Center in San Francisco before entering private practice.
The addition of Dr. Walker to our practice allows us to better serve our patients in a number of ways. For example, I am happy to announce expanded office hours on Thursdays, and new Friday appointments! We've had many requests for Friday appointments over the years, and we're thrilled to be able to finally offer that to our patients.
Dr. Walker brings enthusiasm, poise, and a kind, gentle nature with him to our practice. His interests include cycling, hiking, bird watching, and spending time at the beach with his family. He lives in Laguna Hills with his wife and two daughters, ages one and three. I am confident you will find Dr. Walker's personality and style complementary to the caring and warmth to which our patients have grown accustomed.
Please join us in welcoming Dr. Walker to our practice. Should you have any questions regarding this important announcement, please feel free to give us a call at (949) 495-4600. I look forward to introducing you in person soon!
Sincerely,
Mae Lee Springer DDS
Tues May 26, 2020
To Our Dental Family,
We have good news! We have officially reopened!
As of Tuesday, May 26 our office is resuming patient care for your non-emergency dental needs. We will be prioritizing patients with the most urgent needs first, as well as those who had appointments cancelled during the unexpected closure.
More good news: We have added some new hours to our hygiene schedule to help accommodate those patients who missed their cleaning appointment. Our goal is to get everyone back on track as soon as possible. If we have not contacted you yet and you'd like an appointment, feel free to reach out to us at this time.
Please know that for right now, appointments will be managed to allow for social distancing between patients plus additional disinfection measures in our office. This means we might need to move your existing appointment, or that your favorite appointment time is temporarily unavailable. We're going to do everything we can to balance your appointment needs with the latest safety protocols, and we appreciate your understanding as we work through this together.
NEW PROTOCOLS: (IMPORTANT - PLEASE READ)
You will see some changes when it's time for your next appointment. These changes were made in accordance with regulations issued by local and federal agencies to ensure the health and safety of our patients and our team.
• BEFORE YOUR APPOINTMENT: We will call you within 48 hours before your appointment to ask you some COVID-19 screening questions.
• WHEN YOU ARRIVE: CALL US WHEN YOU ARRIVE. We may ask you to wait in your car in order to control the patient traffic in our office. We will notify you when we are ready to see you. Please DO NOT WALK IN until we ask you to do so.
Please note: Our waiting room is temporarily closed, so we kindly ask that family members, friends, and other guests remain at home or in the car unless there is a medical need for them to accompany the patient to the office. Young children will be allowed one parent to accompany them to the appointment.
• WHEN YOU COME IN: You will be asked the same screening questions again and your temperature will be taken and recorded with a no-touch forehead thermometer.
• We have hand sanitizer that we will ask you to use as soon as you enter the office, after the screening is conducted.
• PLEASE ARRIVE AT THE OFFICE WEARING A FACE MASK OR FACE COVERING. Masks must be worn by all persons for the entire visit. We will have you remove your mask for your procedure only.
YOUR SAFETY IS OUR TOP PRIORITY:
• We have installed medical grade air purifiers in the treatment rooms and throughout the office.
• We have enhanced our already-stringent cleaning protocols with additional treatment of all surfaces with a disinfectant that is FDA-approved for use against COVID-19.
• Staff will be screened for symptoms daily, and will be wearing masks in the office at all times.
• We will be utilizing new isolation systems to reduce aerosols and minimize risk of infection during dental treatment.
• We're also going to look a little different with all our new PPE. Here's a sneak peek at our new look. It's pretty warm under all this gear, so we may be keeping the office a little cooler than normal. And since we cannot offer blankets to our patients right now, we suggest bringing a sweater or light jacket to your appointment.
Should you have any questions or concerns, please reach out to our office at (949) 495-4600 or send an e-mail to admin@doctorspringer.com.
We look forward to seeing you soon!
Sincerely,
Dr. Mae Lee Springer and Your Springer Dental Team
---
WE WANT YOUR CANDY!!!!!
We are THRILLED to be a part of such an amazing program for the 6th time! Help fight tooth decay and childhood obesity, and support our Troops at the same time! If you or anyone you know have children and would be interested in participating in our Candy Buy Back 2013 please refer them to this page or our facebook page! (https://www.facebook.com/springerdds)
~ Open to all children ages 12 and under
~ You do NOT need to be current patients of Dr. Springer, we welcome all local trick or treaters!
~ Must be accompanied by an adult
~ Candy must be unopened, and in good condition (no half-eaten Christmas candy from 2017 please!)
~ You are welcome to donate as much candy as you like. We will pay $1 per pound CASH for up to the first 5 pounds per child.
~ Children are invited to bring a letter or drawing to send to the troops. We will also provide paper and crayons to create one while you're here if you like.